Support Quincy students against racism!
Students from Quincy and North Quincy High School are protesting against racism in their school system
QFTC Organizer | November 13, 2021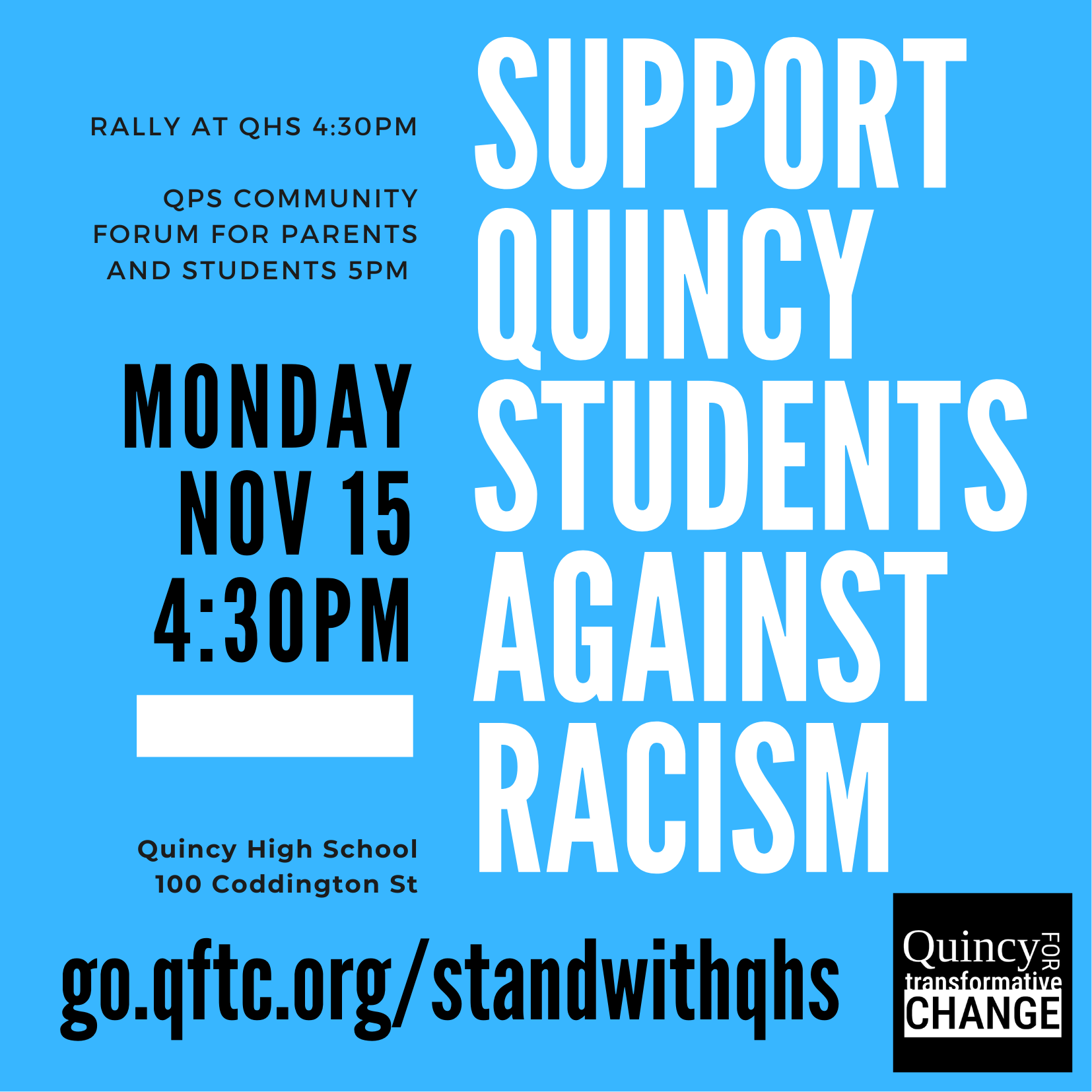 On November 5, 2021, the Quincy Public School administration announced their finding that North Quincy and Quincy High School students had been sharing video and audio files on social media that contained sexual harassment and hate speech (citation). On Nov. 9, a video created by Quincy High School students that contained extreme anti-Black racist hate speech came to light as well (citation). On Nov. 12, hundreds of Quincy High School students walked out in protest of the latter video and the systemic injustice that it highlights, joined by numerous North Quincy High School students (citation here and here, photos here).
The difference in the school administration's responses to these two incidents is striking, and gives emphasis to the students' reasons for protesting. For the first incident, the administration made a strong statement that "this offensive and dangerous behavior will not be tolerated" (citation). For the second, their insipid statement reads, "There are clearly issues with culture and climate that require collaboration with outside resources and strategic planning in order to move forward with reinforcing our schools as safe and supportive environments." (citation)
Since early 2021, Doug Gutro and Emily Lebo on the school committee have spearheaded an effort to bring in programs run by DOVE Inc (Domestic Violence Ended) to address issues of sexual harassment, assault, and dating abuse in schools (citation). Having these programs readily available allows the school administration to provide a concrete and targeted response to the first incident, which is commendable. However, no equivalent initiative exists to address racism in the Quincy school system. For the second incident, the only solution that the administration has to offer are community forums from Walker Therapeutic and a vague reference to "ongoing work" involving "community building, health education and interventions, and peer mentoring" (citation).
The absence of a specific program with a clear goal to remedy racism in the Quincy school environment is not at all surprising. The nearest thing to such a program was implemented in 2016, when the school hired consultants from Visions Inc for a "Diversity Competency Initiative" which was meant to "provide our students and staff with the tools needed to thrive in a diverse world" with "race, class, gender, and other differences" (citation). The failure of this initiative to adequately address the issue of racism in schools can be seen quite clearly in the student Instagram pages "POC At North Quincy" and "Black At Quincy High" created in 2020 (citations here and here). What the students are now protesting are the administration's empty words, excuses, and inaction that prioritizes the comfort of the privileged over the safety of the marginalized (citation).
The long-term and institutional nature of the administration's inability to reckon with racism in schools, as well as the way it reflects the regressive nature of a large portion of Quincy's local community, is amply illustrated in the issue of the former North Quincy High School mascot. This mascot, Yakoo, depicted Armenian dentist and North Quincy High alumnus Dr. Allan Yacubian in "redface" caricature. The administration has fielded criticism of the racist nature of the mascot and calls to change it since the 1980s. The school was asked to remove the mascot in 1990 by the US Department of Education, but the school committee voted to keep it in 1993. In 1995, the Boston office of the Federal Civil Rights Office ruled the mascot "offensive". (citation) And yet, it wasn't until 2020, amidst a renewed push to demand justice for marginalized races, that the mascot was updated to remove its harmful depiction of Native American stereotypes (citation). Even then, there was significant community pushback against the proposed change (citation), and the original racist caricature is still being used by many youth and alumni sports teams and groups today. It is no wonder, then, that these abhorrent attitudes are passed down to Quincy's children and perpetuated in their interactions with peers.
We urge everyone - whether you have children in the Quincy public school system or not - to demonstrate solidarity and support for the students who are leading the fight for systemic change. Lets show the school administration and the city as a whole that we stand with them in creating a more just and inclusive Quincy.
Things you can do:
The school administration will be holding another community forum regarding the hate speech incidents in the past week, for parents, guardians, and community members to attend on Monday, November 15th at Quincy High School, 100 Coddington St. (citation).
Write or call members of the school administration about this issue:
Postscript: On 11/13/2021, another racist video created by students at Point Webster Middle School was reported to the school administration. (citation)